SPOTLIGHT ON... THE HUDDLE
We are so proud to hold a mix of high street names & independents and we thought it was time to celebrate some of the fantastic independent businesses here at the Quedam! Starting us off we have Kizzy from The Huddle, supporting parents from pregnancy and beyond.
All About Kizzy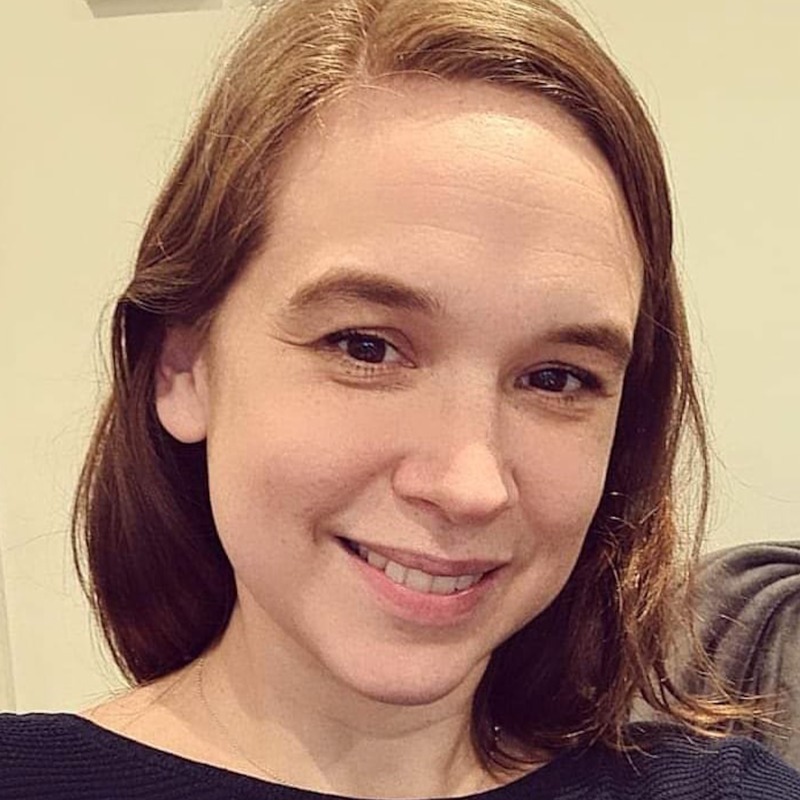 I am Kizzy, mum to Joshua aged 5 and dog mummy to Buttons, our cockapoo puppy. I am a carrying and parenting consultant and my passion is to support parents to feel confident in their choices and to listen to their parent gut instincts!
I am a trained babywearing and carrying consultant, with lots of experience and knowledge to help you through the overwhelming process of choosing the right carrier, sling, wrap for you.
I am a qualified and experienced Early Years Teacher, playworker and general play-based learning enthusiast. In March 2020 I attended the Toddler Calm training by Calm Family, once I have completed the coursework, I will be offering toddler workshops and consultations.
To be able to offer more rounded support I have completed a range of postnatal care/babies training as well as qualifying as infant feeding peer supporter.
The Story of The Huddle
During lockdown 1 in March 2020 I created a Facebook group to be able to offer online support in a safe space. The group took a different turn than I expected – from being about providing newborn and pregnancy support, to parent support with play & home learning activities, a safe space to share the ups and downs of parenting during lockdown. I offered video and phone calls to those who needed support and offered daily live videos on a whole host of topics. It became clear that the need for a safe space for parents to meet and do this in person was and is in desperate need.
In 2018 I created South West Bumps & Beyond, a network of local Somerset businesses that supported parents from pregnancy and to school age. We hosted new and expectant parent events, aimed at supporting parents to access information to enable them to make informed choices. We were due to hold a pop up shop at The Quedam in the spring, but Covid-19 meant this wasn't able to go ahead.
Throughout lockdown I kept in touch with the Quedam team and when it was announced that non essential retail was to open again, I took the jump to open a shop with a cosy feeding and support corner to be able to offer face to face support for parents. And so The Huddle was created!
Our aims are to provide an inclusive space where you can access support, information and community. You will not be judged, you will be listened to, supported, signposted when and where needed, empowered to make the choices to fit your family.
The Shop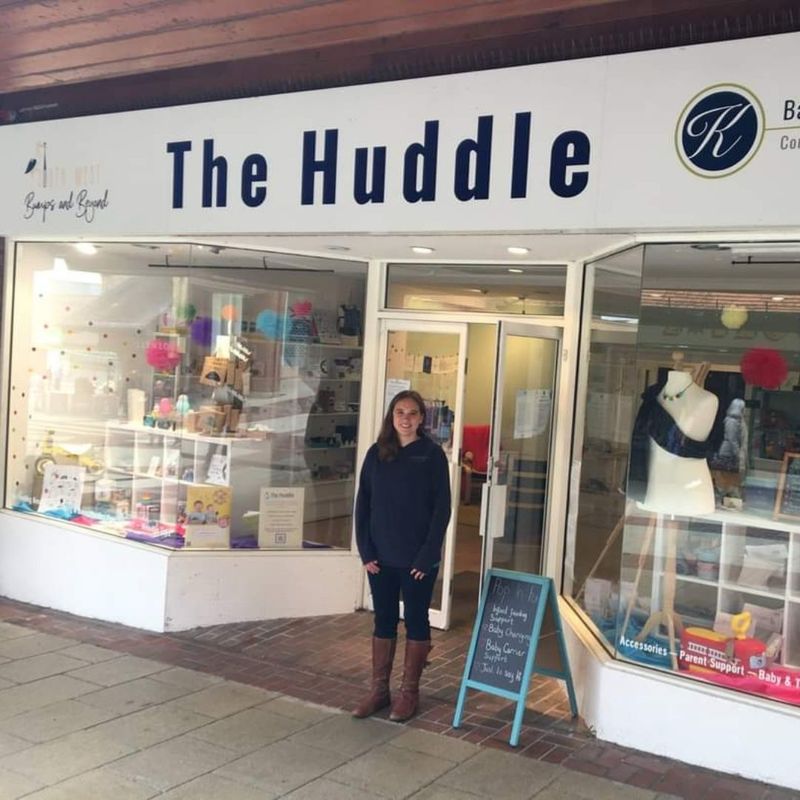 The shop part of The Huddle was never part of the business I expected to have. As a carrying consultant I sold slings, carriers and wraps along with some accessories. This wasn't however enough to fill the shop. I made the decision to stock local work from home parents businesses. Because supporting parents is what I am about. Everything in the shop has been hand picked by myself, choosing things I have used myself, wish I had know about when Joshua was little or believe in the value it brings to little ones and their parents. All of our products are from UK based independent businesses, keeping them local where possible.
We have a range of wooden toys (Beehive toys, based down the road in South Petherton), Hellion Toys (wonderful handmade open ended and versatile toys). Play prompts from PlayHooray (designed by an EYFS teacher) and Activity bags from Super Kids Therapy (designed by a occupational therapist) offer parents play activities with things round the home to support their learning through play. We also stock some other wonderful brands like the very popular Rosa and Bo nesting babies, the fantastic black and white range by The black and white book project , and the teethers which are also puzzles by JellyStone.
Our accessories range go from change mats, muslins, teething rings and necklaces to those little things that make parenting easier. Our weaning sets, mothers milestone cards, bags, and don't forget our slings! Our Inch Blue shoes are the perfect pre-walker and early walker shoes and even have some snuggly boots.
In the shop our feeding corner is a safe space to pop in and take a break from the outside world, stop, feed your baby (however you feed your baby), reconnect, rest, off load and know there is a listening ear, ask questions, even access free infant feeding peer support.
The profits made in the shop all go towards providing the activities and groups in our support space at the back of the shop.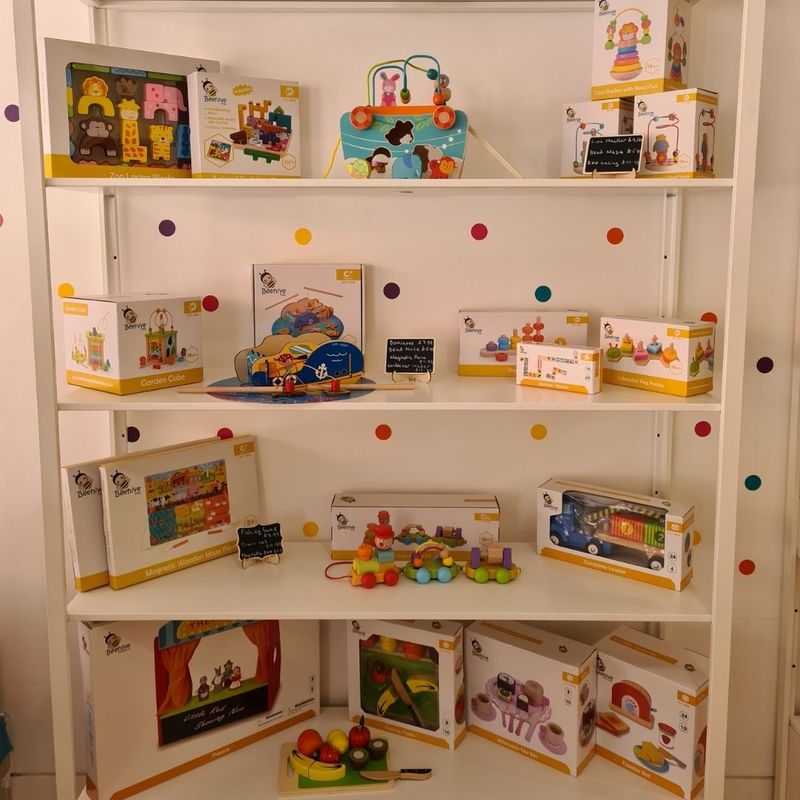 The Family Support Space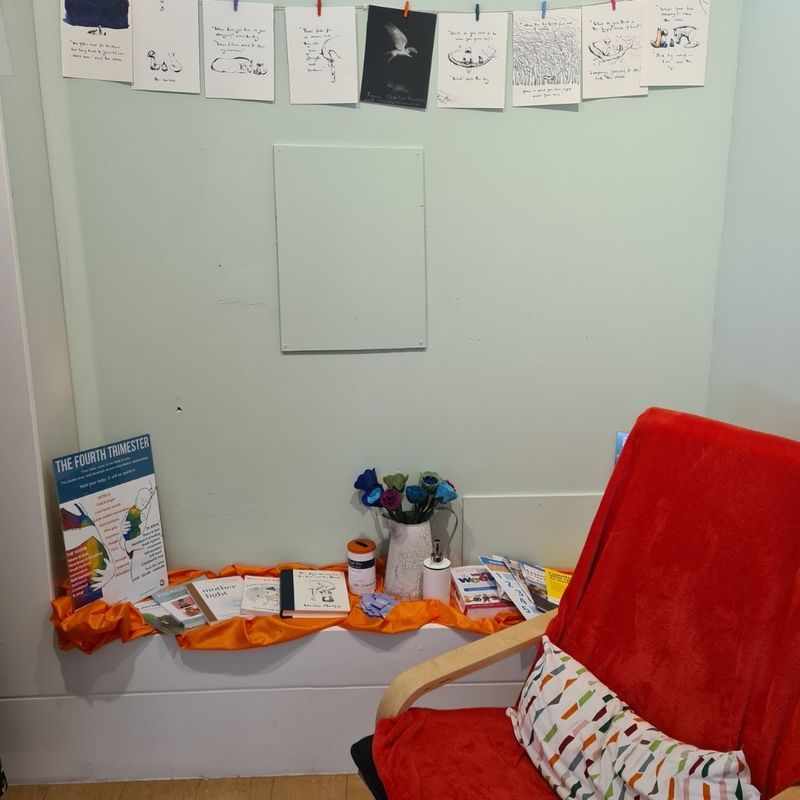 The Huddle is all about supporting you as a family. The pandemic has meant many of us haven't been able to chat, off load and learn about and share parenthood with others. This has a huge impact on parents well being, self esteem as parents and confidence. The internet is a great space but that all depends if you can find the right place to get your support and information. There is a lot of information and opinion out there and can be hard to dissect what is fact, opinion and right for you!
At the Huddle I provide a space where you can access research based information, not opinion, signposting to places to read further or people best to be able to support you with your specific question/need.
The Huddle is an inclusive space – you are welcome! Race, disability, religion, gender, and LGBTQ+ community.
We provide a range of groups (when government guidelines allow). These are prebooked slots starting from £2.50 a session and no need to book a block.
Hatchlings: from pregnancy to 4 months. Our 4th trimester group offers a safe space to meet others and chat about all things newborns! Feeding support, normal infant behaviour and carrying support, play and even guest professionals to share some of their knowledge. From baby music, baby massage to womens health specialists and alternative therapies.
Pingu: from 5 months to walking. This group is where the little ones play, we chat and support as always available. Rolling, crawling and cruising fun!
Happy Feet: Walking – 2years. This age group have missed out a lot on socialising and communication. A range of play activities and resources are set up to support their developmental stage, aid communication and building confidence being in a group with other children, building relationships and having fun.
The Emperor's: Preschoolers 3-5yr olds. A slightly more structured session. Where we learn to sit and listen to a story, answering questions and taking part in play-based activities (which also help us towards getting school ready). Supporting parents with ideas how to play and support their little ones development with age appropriate expectations. Focus on motor skills, communication and fun!
We host a range of other professionals too. They hold classes, workshops and events. Keep an eye out on our social media and website to stay up to date.
Including baby massage, hypnobirthing, understanding newborns, toddler behaviour, play, range of babywearing workshops, preparing to breastfeed, nappy natter and more…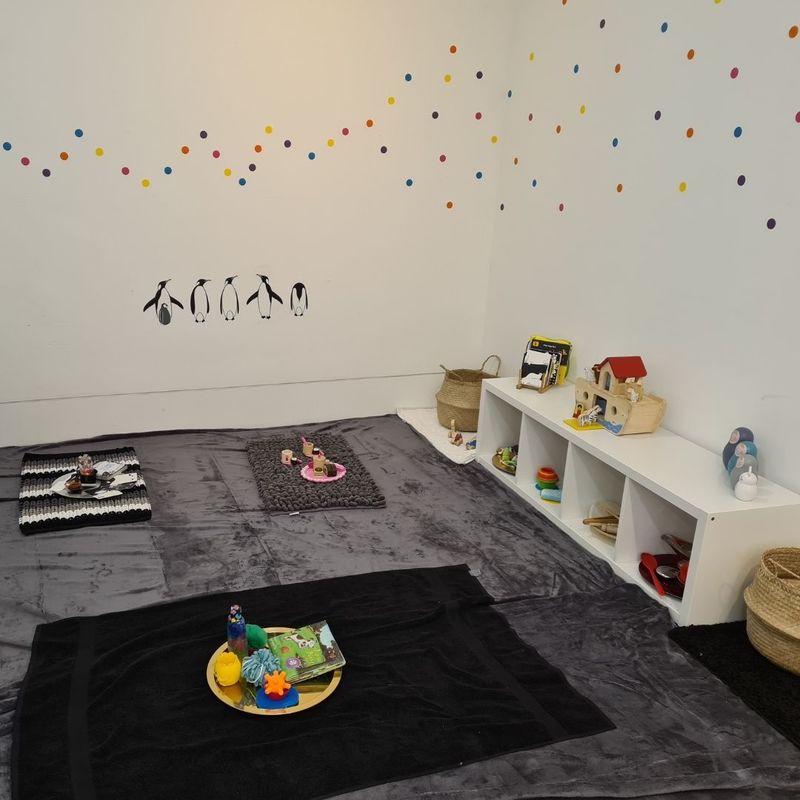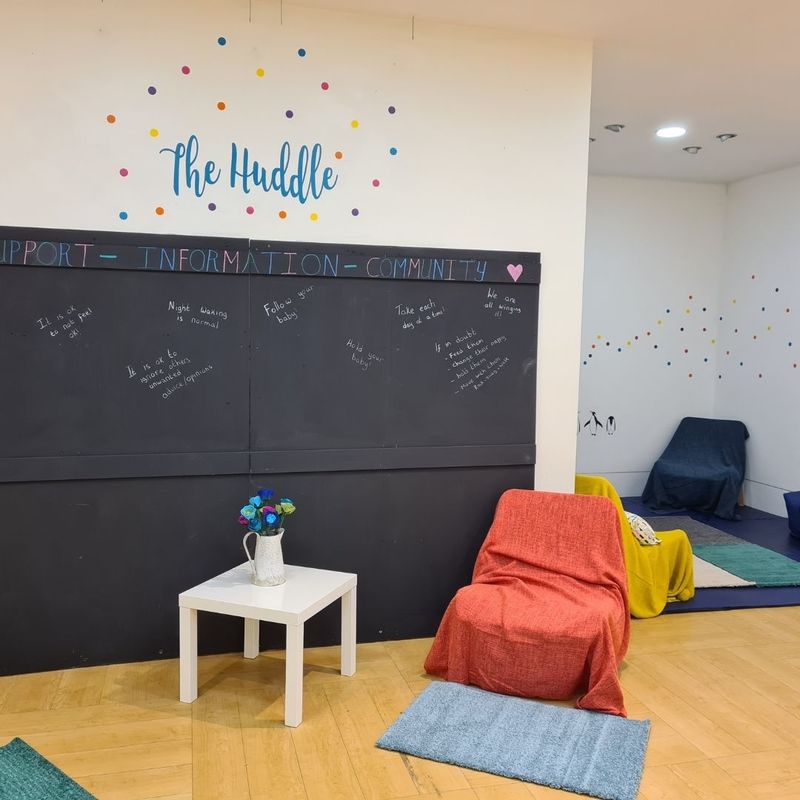 Babywearing
As a qualified and experienced consultant I offer a range of ways to access my support. From 15min video chats to 2 hour consultations to group workshops.
The aim of the sessions are to support you in finding the right carrier, wrap or sling for you and your family and ensure you are able to carry with confidence.
These are hosted at The Huddle, although home consultations are available upon request.
www.babywearingsouthwest.co.uk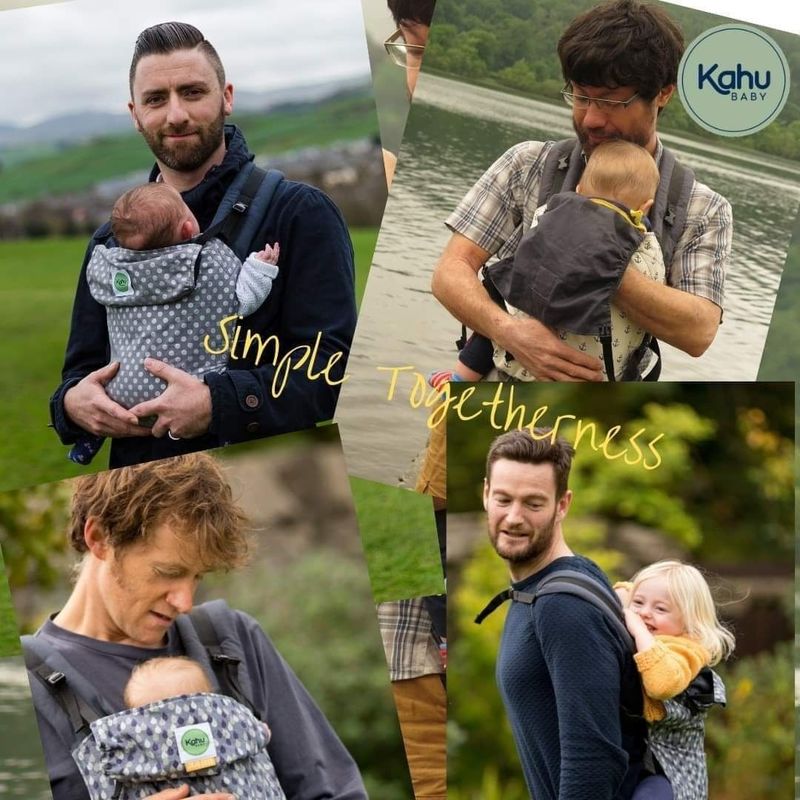 Online during Lockdown
When we are not able to be open as we like we are still here! It just looks a little different.
Facebook group
- We have a group here:
- Tips, support, access to virtual groups
Facebook and Instagram
- Regular lives on play, babywearing
- Reading of stories from independent authors
- Sharing of tips, hints and information
Zoom groups
- Online baby and toddler groups
- Themed information session
- Guest professionals
Online and telephone support
- You can continue to message us on social media, or email kizzy@babywearingsouthwest.co.uk
- Book a phone or video chat if you need a friendly face/listening ear.
---